What is the HM-1000 super-resolution microscope?
Conventional fluorescence microscopes have an optical diffraction limit of around 200 nm. However,to observe aggregated proteins and abnormalities in cells of approximately tens of nm, as well as to analyze images with high accuracy, resolution beyond this conventional diffraction limit is required.
The single-molecule fluorescence microscope HM-1000 combines molecular detection techniques using fluorescent dyes with image analysis techniques to achieve a high spatial resolution that cannot be obtained by conventional fluorescence microscopes. Thus, the HM-1000 aids in conducting research that requires detailed image analysis to detect abnormal aggregations of proteins, abnormalities of small cellular organelles, and dendritic projections.
Beyond super-resolution imaging
The HM-1000 will advance the nano-scale analysis world with super-resolution.
It provides a high-spatial-resolution image that cannot be obtained using a conventional fluorescence microscope.
For example, research in fields such as cancer research and regenerative medicine, as well as viral and bacterial infection mechanisms can
benefit by analyzing protein and cell structures using nano-resolution images.
The HM-1000 will introduce super-resolution imaging to conventional research.
Conventional super-resolution microscopes require a dark room and a high level of skill for its operation.
The HM-1000 resolves these issues and can be used in many facilities because of its intuitive design.
Beyond super-resolution imaging.
"Can be seen" means "Can be clarified"
The ideal concept of the super-resolution microscope sought by researchers has
finally been implemented in this study.
-Spatial resolution of less than 40nm (maximum resolution reached:  23nm)
-Compact and space-saving, no dark room necessary
-Does not require complicated operations such as optical axis adjustment
HM-1000 imaging principle
Acquire images of blinking fluorescent dyes with high accuracy and build super-resolution images
Blinking is one of the properties of some fluorescence dyes and is used for imaging. The imaging procedure can be simplified using a fluorescence dye that blinks repeatedly. The sample is continuously irradiated with a laser so that the fluorescence dye begins to blink, and the bright spots are extracted from the acquired image. The individual position of the fluorescence dye is processed through image analysis to construct a super-resolution image.
Spatial resolution: application example
Achieved the highest reachable resolution of 23nm* ! Results of single-molecule measurement using SaraFluor 650B (HMSiR). The maximum resolution varies depends on the sample and fluorescent dye.
The spatial resolution of the HM-1000 is 40nm or less; its maximum reachable resolution is  23nm*.This high spatial resolution makes it possible to analyze clear images without blurring, even when enlarged.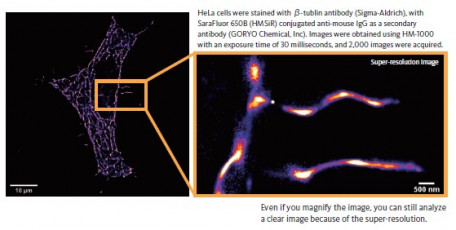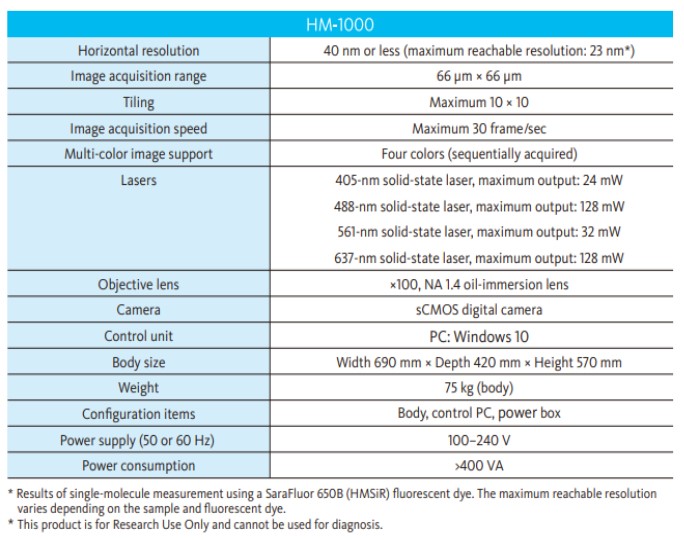 Tiling function
Selected cells of interest in the image can be acquired in super-resolution imaging mode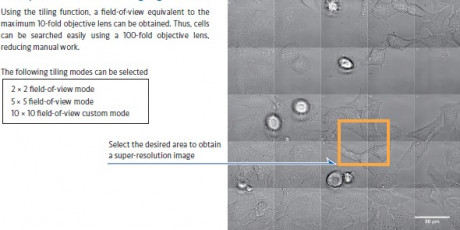 The monitor slides and the sample stage appears
Set the sample and close the monitor, body will be a dark room
Nanoreso Image Gallery
Catalog download
Introducing Video